Application
Pharmaceuticals: Creams, Gels, Sterile & Non Sterile Ointments and Biotech products.
Cosmetics: Cold Creams, Hair Dye Cream, Conditioners, Lotions, Gels, Mascara make-up, Shampoo, Toothpaste.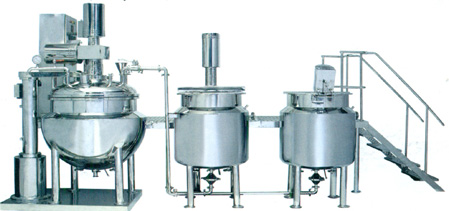 Main Vessel
Salient Features:
• Choice of various type of anchor design.
• Homogeniser (option) - Top Entry, side Entry,
• Bottom Entry with circulation facility
• Hydraulic lid lifting for fast & easy cleaning of top dish & vessel.
• Load Cell for fast & accurate measuring system.
• Flexible product transfer pipe & fitting in case of load cell & hydraulic lifting
• VFD for Anchor agitators to vary the RPM.
• VFD for Homogeniser to vary RPM
• Specially Design drives assembly
Wax Vessel
• Open top with top Entry agitator Cowl disc type or paddle with Slow Speed Anchor.
• Close top with top/bottom entry agitator Cowl disc type or propeller type stirrer.
Water Vessel
• Open top with top entry propeller stirrer.
• Close top with bottom or top entry propeller.
Common Feature
• The main function are mixing and emulsifying. This in the broader sense means producing very fine emulsions, suspensions, etc featuring excellent homogeneity and thus finally stability of the mixed product.
• Jacket have heating & cooling with temperature control with Safety equipment.
• Electro polished Pipeline and joints are TC standard for easy opening & re-fixing.
• Vacuum system to transfer product from one vessel to another vessel and zero retention in pre phase vessel & inter connecting pipeline.
• No Air contamination. / Human contamination Cleaning In Place cycles with validation protocols. (Optional).
Automatic Tube Filling
Pharma Systems tube filling machine is reliable, flexible and user friendly to give output of 70 To 80 Tubes per minute. To make machine easy to use and quick change over, special care has been taken. The machine design provides good access for maintenance and give operator excellent visibility at all the major machine functions. Machine is equipped with high accuracy filling systems, provides clean and accurate filling at optimum speed providing high quality and product. The machine is extremely compact.
Salient Features:
• Simple Mechanism & Operator Friendly.
• Combo Model Suitable For Both Aluminium and Lami/Plastic Tubes.
• Easy to Clean.
• Quick Changeover.
• Out Put 70 to 80 Tubes Min - For Double Head M/c.